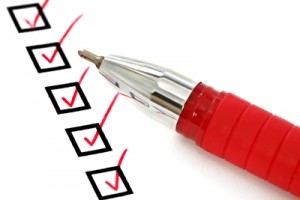 The first 90 days of a job really set the tone for your employment. Three months is the standard "grace period" for all employers, and how you handle those first weeks and months on the job is critical.   This three-part blog series will help you create your own 30-60-90 day plan to impress during an interview and show that you have what it takes to perform the job in question.
Creating a 30-60-90 day plan as part of the job interview process can not only help you win the job offer, but it can help guide your actions during the transition period for your new position. The plan is a written set of strategies and goals you have for the first three months in a new position.  It demonstrates an understanding of what the job involves and your ability to perform that job.
Developing a 30-60-90 day plan requires that you mentally prepare yourself for a new position by planning the activities and projects that will help you learn what you need to know about your potential new employer and co-workers while setting yourself up for success in the first 90 days on the job. You can develop a 30-60-90 day plan for almost any position, but they are most commonly used in sales, management, technical, and administrative jobs. In certain types of positions – for example, sales and sales management jobs – you may actually be asked to create a 30-60-90 day plan as part of the interview process. However, taking the initiative to create a plan – even without being asked – can set you apart from other candidates and demonstrate your understanding of the role and qualifications to handle the challenges the position offers.
Creating a plan signals the hiring manger that you are a serious candidate and that you are willing to invest the time and resources necessary to be successful in the position.  It can demonstrate your knowledge of the company's needs and outline the skills and abilities you'll put into action to effectively perform in the position. It distinguishes you from other candidates for the position by focusing on the company's needs and requirements and showing how you can make an immediate impact in your first 90 days on the job.  The 30-60-90 day plan can enhance your chances for receiving an additional interview and securing the job offer. Once hired, the plan can serve as a road map to success in your first 90 days in a new position.
Your 30-60-90 day plan will address many aspects of business matters, including products, customers, technologies, company culture/politics, and strategies. After 90 days in a new position, your supervisor expects you to be making an impact in your new position. The 30-60-90 day plan helps ensure you'll achieve this goal.
When to Develop the 30-60-90 Day Plan
There are generally two specific time periods where you might develop your 30-60-90 day plan. The first is after your initial job interview, when you've started identifying how you can be a fit for the company's needs. You might actually suggest to the hiring manager at the end of the interview that you create a 30-60-90 day plan so that he or she can assess whether you would be a good fit for the organization.
In securing permission to create the plan, you may request permission to conduct informational interviews with people you would be working with in the position. This is an opportunity to get to know your future coworkers and obtain information that isn't available through third party research alone. Your request to create the plan indicates serious interest in the position.
The second time frame for creating a 30-60-90 day plan is after the second or third interview but before a hiring decision has been made. It's sometimes at this point that the hiring manager actually requests you create the plan, instead of you taking the initiative to create one.
Where to Get the Information For Your 30-60-90 Day Plan
This document can set you apart from other candidates by demonstrating an understanding of the role and a specific plan for meeting the company's needs. Of course, to create the document, you must have information about the company, the job, and the industry. You can gather this information by researching the company and the industry, and/or customers, through conversations with your job interviewer/s, future co-workers, supervisors, and vendors serving the company and industry. Here are some of the sources you could consult for research:
The job description/job posting for this position
The company's website (including news releases, mission statements, and the company's annual report)
The company's social media channels (Twitter, Facebook, YouTube, LinkedIn company profile, etc.)
Third-party websites like GlassDoor.com (www.glassdoor.com) or WetFeet.com (www.wetfeet.com) allow you to read the opinions of former employees
Media coverage (trade journals and mainstream media)
Google the company
Ask the hiring manager to provide you with access to individual data that will help you develop your plan- i.e. financial and operating reports, strategic and functional plans, employee surveys, etc. (Keep in mind, the company may not want to provide you with this data unless you are hired, so you may not have access until you are an employee)
If you know someone who works for the company- or if you can network your way to be able to talk to a current employee- you can ask them questions to assess the current situation.
You can also talk to people who are currently working in the field to gain a better understanding of the job, company, or industry.
One of the best sources of information is your interview with the hiring manager for the job. Listen carefully for information that relates to the organization's strategy, technical capabilities, corporate culture, and organizational politics. During the interview, pay attention for clues to the hiring manager's problems and concerns and identify the company's plans for future growth. Some questions to ask in the interview that will help you prepare the plan include:
What is the biggest challenge facing the organization in the next 6 months or year?
How is this role expected to address this challenge facing the company? (Or is it?)
What does he or she absolutely need you to accomplish in the first 90 days?
What would he or she like you to do beyond that in the first 90 days?
What is the most promising, yet unexploited, opportunity for growth? Why isn't the company pursuing that opportunity right now?
What is the biggest problem you need solved by (this job title) ?
Is this position focused on new projects, turnarounds/realignments, or sustaining success?
Take a few minutes after the interview to write down everything you can think of that relates to:
Problems the hiring manager/company is facing
Opportunities that haven't yet been pursued but that are a priority
Your personal weaknesses/shortcomings that may need to be addressed in follow-up communications to strengthen your position as a candidate
Gathering information is an important part of the process, so take your time and be thorough.  Check out Parts 2 & 3 of this post for information on formatting, writing, presenting, and using your 30-60-90 day plan!